Introducing Fish Lake and it's PowerPoint and PDF titled, "Doughnuts and Adding Fractions." This lesson uses doughnuts to illustrate adding fractions with like denominators and takes students through the steps of adding mixed number fractions that also have like denominators. You can view and download the "Doughnuts and Adding Fractions" PowerPoint presentation and PDF below:
Doughnuts and Adding Fractions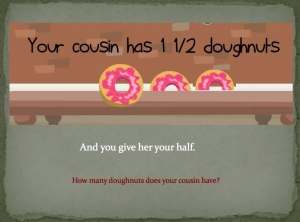 We provide educational resources, like the one above, for all of our games both here on this site and on our resources page on our main website. Make sure to head over there and check out what we have to offer. Find materials like clip art and videos for your classroom, home, blogs and other educational needs.
Have a great National Doughnut Day and weekend!
---
Can't decide which our our games to buy? Buy or donate all three games with this great bundle deal. Check it out!