About this lesson

This is the introductory lesson for third grade to the 'Multiplying by N' series. This lesson teaches that multiplication is a form of repeated addition, drawing on background knowledge students have.
A downloadable lesson plan and PowerPoint presentation for teachers is provided.
Lesson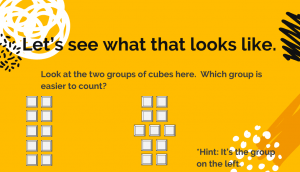 Objectives
Students, working with a partner, will learn the basics of how multiplication works (before learning to multiply by other values, such as 2, 3, or 4 in later lessons).
Learning and memorizing multiplication patterns will improve understanding of division.
Students will learn hands-on using manipulatives to create number sentences.
Games
Players practice multiplication and division skills while learning math problem-solving strategies. They'll also be introduced to Native American history. Kids earn points by solving math problems and answering social studies questions in the village-building simulation game.
Spirit Lake: The Game
Players learn how to solve multiplication, division and geometry through word problems set in the context of a stories based on the history and culture of the Dakota people. Runs on Mac and Windows computers.

Games That Make You Smarter