Knowing your math terms is important. Students asked to find the quotient may not get the right answer not because of an inability to divide 28 by 4 but rather because they don't know what the word 'quotient' means. This video goes over the terms for addition, subtraction and multiplication.
---
This video is featured in our educational video games Making Camp Bilingual and Spirit Lake.
Making Camp Bilingual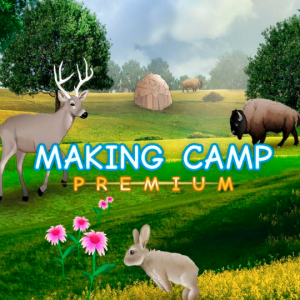 In Making Camp Bilingual, players practice multiplication and division skills while learning math problem-solving strategies. They'll also be introduced to Native American history. Earn points by solving math problems and answering social studies questions in the village-building simulation game.
---
Making Camp Bilingual is $1.99 and is for Windows, Mac, Chrome, iPad, and Android. Click a link below to visit each store page.
---
Spirit Lake: The Game
In Spirit Lake, players practice multiplication, division, geometry through word problems while learning about the Native American history of Dakota. Work to save your tribe by solving math problems, all while escaping rabid wolves and hunting buffalo. Math has never been this fun!
---
Spirit Lake: The Game is $9.99 and is for Windows and Mac.
The links lead to the download pages.